Custom hand stamps, as an affordable and long-lasting customization tool, have a long history of allowing makers from a huge variety of industries to make their mark.
Over the years, we've helped many companies, artisans, and makers customize hand stamps so that they can make the mark they want in the place they want to make it.
We thought it might be nice to show off some of these talented people and their amazing work.
First, some background. Durable Technologies' custom hand stamps are specifically engineered for identifying industrial products.
Every die blank is machined to the user's specifications. Durable's custom hand stamps satisfy any user requirement for direct part identification.
What can be customized?
Sizes of the shank, characters, or graphic

Design and graphics style

Character number, font, and size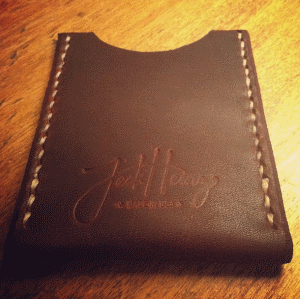 When you create custom leather accessories like iPad covers, belts, and wallets, you need to clearly brand them so that you become memorable and unique in the eyes of your customers.
Jack Heinz Company needed custom hand stamps to leave the kind of brand mark on their leather products that communicated the quality and value of the products they are selling...so they turned to Durable Technologies.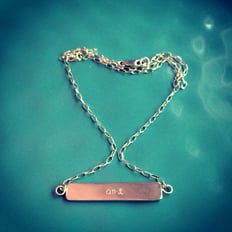 Anna Nava-Liess, the owner of AN-L Handcrafted, located in VA, is a modern artisan. She creates custom jewelry that reflects her tastes, experiences, and eye for beauty.
When she needed to imprint a permanent mark into her works of art, she called the experts on direct part marking at Durable Technologies.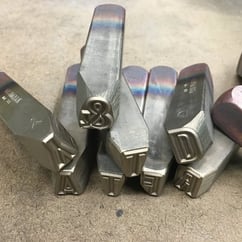 Oowee Products of Asheville, NC, creates custom, hand-crafted leather sleeves for mugs and other beer accessories. Recently, they partnered with a major brewer for promotion of their product line at large events.
The problem was that they wanted to be able to customize a stamped mark into the leather but didn't want to use a standard font.
They were looking for a custom hand stamp letter set, and that's where Durable Technologies came in.
Oowee chose our custom hand stamps.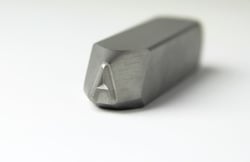 Sharrow Lifting Products manufactures and sells a full line of lifting slings, rigging equipment, tie-down equipment, and other specialty lifting devices.
They needed a rugged direct part marking method to permanently imprint a model number and other part identification information on the metal components of their products.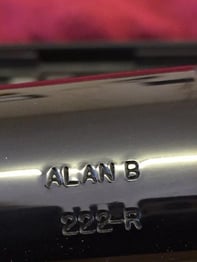 Allan Broughman owns Broughman Gun Shop in Covington, VA, and is a gun expert specializing in restoring guns and building custom rifles. For the last few years,
Durable Technologies has been making custom steel hand stamps for him to mark his rifles.
Learn more about steel stamps and holders in the new, free Guide to Traditional Industrial Marking!
Or contact us to request a quote for custom hand stamps.
You Might Also Be Interested In
This post was published on September 8, 2022 and updated on September 8, 2022.