Hot Melt Ink Rolls
Durable Technologies' hot melt ink rolls are specialized foam rolls that are friction loaded with a variety of hot melt inks for use in hot ink coders, including Markem's® Touch Dry Coders.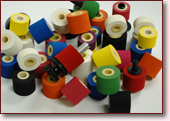 Our hot melt ink rollers are available in a wide range of ink formulations for printing in temperatures ranging from 200°F (93°C) up to 325°F (163°C). With four different inks formulas, several colors and multiple different sized rollers available, Durable Technologies is certain to have an ink solution for your hot stamping application.
Our wide selection of hot melt ink rolls are designed to fit in all brands of hot ink contact coders including Markem®, Norwood®, Dato Pak® and EDM®.
We offer alternatives to Markem's most popular Touch Dry Ink Rolls including the 910 Series (part #'s 8093121, 8000300 and 8003000050), 930 Series (part #'s 8093051, 8093001 and 8093011), 932 Series (part #'s 8093101, 8000311 and 8003110050) and 933 Series (part #'s 8093077, 8000318 and 8000354).
Call us today at 866-344-7721 for your Free Trial Sample.
Click here to download our Hot Melt Ink Rollers Flyer.

Click here for more information on our Markem replacement type.
*We supply hot melt ink rolls for the OEM's listed above but in no way indicate manufacturer's endorsement.