Continuous Ink Jet (Small Character Printing)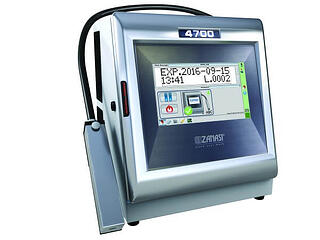 Our CIJ printers are an extraordinarily reliable, cost effective, versatile and easy to use line of industrial small character continuous ink jet printers. Whether you need to print fixed or variable data, 2D data matrix barcodes, expiration dates, alphanumeric text, logos or other graphics onto rigid, flexible, irregular shaped, porous or non-porous substrates, our CIJ printers offer a very economical and dependable solution for your coding application requirements.
Click here for more information on our line of Portable Ink Jet Printers.
Click here for more information on our OEM alternative Ink Jet Fluids.
Standard Functions:
Easy one button start up and shut down
Self-cleaning nozzle design
Easy user friendly interface
Remote PC control
Automatic viscosity control
Shift codes, expiration date, counters and more
2D data matrix barcodes, logo and graphics printing
Non-stop operation during fluid replenishment
Print Capabilities:
Print 1 to 4 lines of text
Standard single line – 1,666 characters per second
Up to 160m per minute (525 fpm) – Twin line
Message height: 1-20mm (.040" - .788")
Variety of nozzles available
Standard fonts include 5*5, 5*7, 7*9, 10*12, 10*16, 16*24
For more information please call 866-344-7721.