Center Punch Marking Tool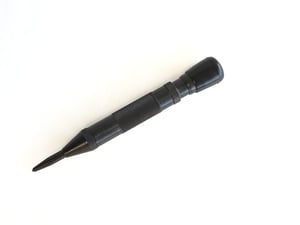 Durable Technologies' center punch marking tool, with its spring-loaded action, requires only hand pressure to make a mark. Quick change inserts are available to create alphanumeric character center punches, symbols center punches, or a custom logo center punch. Overall length of tool is 6" including insert. The center punch tool can also be integrated into a fixture for making a pass/fail mark, machine code, or other identification. The minimum force required to stamp is approximately 25 lbs. while the maximum force is approximately 225 lbs.
Inserts are available with one, two or three alphanumeric characters: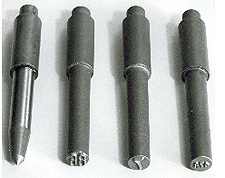 Single character insert (3/16" character or smaller)
Two character insert (3/32" character or smaller)
Three character insert (1/16" character or smaller)
Symbol insert (1/8" or smaller)
*Center punch includes pointed insert.
Click here to download our Symbol Chart.