Porelon® Ink Rolls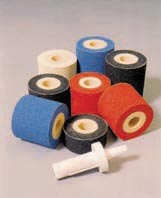 Durable Technologies' supplies Porelon pre-inked rolls for nearly every contact coder on the market - including corrugated and rotary marking devices. Our rollers are designed for use with rubber ribbed type and are available in a variety of colors and standard sizes. Custom colors and sizes are also available. The unique design of our pre-inked rolls gives you a clean, sharp impression without the mess of re-inking rolls after each production run.
The ink in a standard roll dries by absorption on porous surfaces such as cardboard cartons, corrugated boxes, shipping containers and uncoated papers. We also have specialty ink rolls that will dry on many non-porous materials.
Our microporous, disposable ink rolls deliver ink to the rubber ribbed type in one of the most economical and cleanest methods in the industry.

Click here for more information on our Rubber Ribbed Type.
Click here for more information on our Carton and Case Coders.