An Impact Press for your Part Marking Application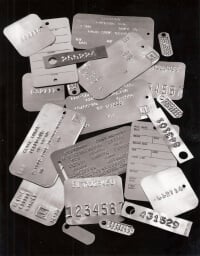 Durable Technologies' impact presses are simple to set up, easy to operate and offer excellent repeatability. They provide significant advantages in terms of control, safety, and reliability and are low maintenance.
Our impact presses are in used in virtually every manufacturing environment, from heavy-duty industrial factories to small custom metalworking shops. The impact press marking system creates the force used for work by compressing and releasing a spring-loaded energy section. This spring compression (the working load) can be easily and quickly adjusted by the operator.
Click on any of the links to the right for more information on our line of Impact Presses. You can also contact us now to speak with someone in Sales.
Durable Technologies can provide you with a turnkey impact press package, including custom steel shank stamps, steel type, type holders, and manual or automatic numbering heads, depending on your specific part marking requirements. We can also help you design a custom fixture for your parts to hold them safely and securely in place while marking.
The impact presses' ease of operation, safety, consistency, and versatility make them a very popular solution for a variety of applications. In addition to stamping and marking, our presses can be used for many other manufacturing applications, including:
Marking
Stamping
Riveting
Staking
Forming
Punching
Bending
Crimping
Piercing
Assembling
Broaching
Coining
Check out our blog post, which covers the versatility of our impact presses across a variety of manufacturing applications.
Our customers recognize the value of Durable Technologies' impact presses and realize benefits like:
Simple to setup
Easy to operate
Excellent repeatability
Consistent impact
Impact adjustable by increasing impact spring tension
Safety - workpiece is held in place by the press during impact
Our engineers will work with you to provide custom fixtures and nesting for the most challenging shop press applications.
Click here to download an article discussing the variety of manufacturing issues addressed using any of our stamping machines including our Manual Presses, Pneumatic Presses, U-Model Presses for integration, Roll Marking, and Heavy Duty Bench presses.
In addition to our Durable Technologies' line of impact presses, we also supply replacement parts for many of Automator's impact presses.