Portable Ink Jet Printers - JetStamp Graphic 1025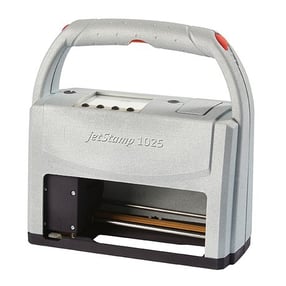 The JetStamp Graphic 1025 is the most flexible and function-packed hand held printer ever brought to market. With the click of a button, the 1025 can print on absorbent and non-absorbent surfaces with 1D & 2D barcodes, graphics, logos, and alphanumeric text, all in less than a second.
This unit is perfect for supply chain, logistics, cannabis, food and beverage, lumber, metal, contract packaging, and countless other industry applications. Compliance has never been easier with this zero-maintenance cartridge-based system and Reiner's industry unique self-traversing printhead.
Printing on a variety of sizes and shapes is effortless; add in single and multi-line imprints and up to 1" print height and you've become unstoppable.
The JetStamp 1025 is ideal for printing on large surface areas like packaging, pallets, and cardboard boxes.
Complete the Request a Quote form on this page today for a free print sample.
Click here to see how the JetStamp Graphic 1025 is being used in the cannabis industry or scroll down for more videos.
Note: This ink does NOT meet mil spec requirements.
For more information on the JetStamp 1025 please call 866-344-7721.