Portable Ink Jet Printers - JetStamp 990
After our long standing success with the JetStamp series of printers, including the 790, 792, 790MP and 792MP, Reiner has introduced the NEW 990 model which replaces all previous versions. The newest model is capable of printing both quick-dry (solvent-based) and water-based ink cartridges. The 990 offers rechargeable battery AND plug-in power supply options within the same unit.
These electronic printers offer great mobility and can print one or two lines of alphanumeric text, sequential numbering, as well as automatic date and time on a variety of materials, including absorbent and non-absorbent substrates such as plastic, glass, metal, coated cardboard, and more. The 990 offers quick and easy programming via USB or Bluetooth (PC only - not MAC compatible).
If you're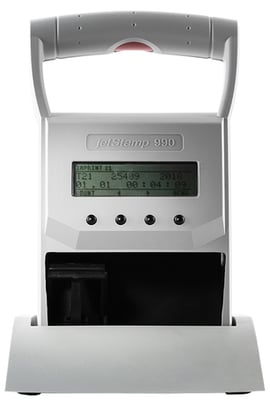 looking for a portable ink jet printer that's affordable, versatile, low maintenance and easy-to-use, we recommend the JetStamp family of printers.
Click here to see how the JetStamp family of printers are being used in the cannabis industry or scroll down for more videos.
Note: These inks do NOT meet mil spec requirements.
Technical Data:
Black and Yellow solvent-based ink cartridges available for porous and non-porous substrates
Black, Red, and Blue water-based ink cartridges available for porous substrates only
Prints 1 or 2 lines of text
Maximum of 20 characters per line, maximum print width 1.65"
Print resolution = 96 dpi
1/8" tall characters with narrow, medium and bold fonts available
Formats include alphanumeric text, automatic date and time, sequential numbering (serializing)
Up to 5,000 impressions per cartridge (cartridges are 4mL)
Remote operation available via foot pedal or micro trigger switch
Network compatible
PC only (NOT compatible with Apple/Mac)
Weight: 1 pound (approximately)
Dimensions: 6.5" H x 4" W x 3.5" D
JetStamp 990 Product Data Sheet
For more information on the JetStamp please call 866-344-7721.