Portable Ink Jet Printers - JetStamp
If you're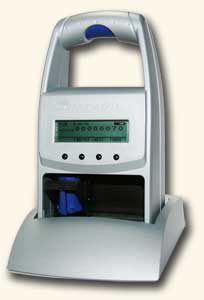 looking for a portable ink jet printer that's affordable, versatile, low maintenance and easy to use, we recommend the JetStamp family of printers. These electronic printers offer great mobility and can print alphanumeric text, sequential numbering, as well as automatic date and time on a variety of materials depending on the printer model you choose, including porous (EM series) and non-porous (MP series) substrates as well as uneven surfaces. This printer comes with its own software and all of the programming is done right through your PC.
Available in three convenient configurations depending on your application requirements: battery operated, plug in with power supply, and direct online printing via a PC interface.
Click here to see how the JetStamp family of printers are being used in the cannabis industry or scroll down for more videos.
Note: These inks do NOT meet mil spec requirements.
Technical Data:
Black, Red, Yellow and Blue ink cartridges available (*Blue only available with EM series for porous substrates)
Up to 5,000 impressions per cartridge (cartridges are 3mL)
Prints 1 or 2 lines of text
Maximum of 20 characters per line, maximum print width 1.65"
1/8" tall characters, adjustable widths
Formats include alphanumeric text, automatic date and time, sequential numbering (serializing)
Weight: 1 pound (approximately)
Dimensions: 6.6" H x 3.7" W x 3" D
Not compatible with Mac
For more information on the JetStamp please call 866-344-7721.