Hot Stamping Type and Dies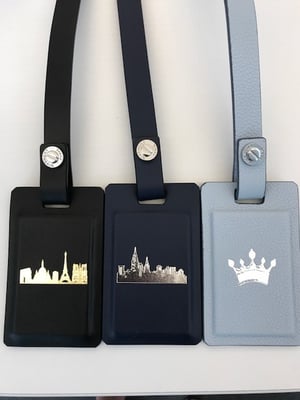 Hot stamping is a common marking technology allowing customization on a wide variety of materials. Customers are increasingly asking for personalization of their purchases. The demand for monogramming type and dies are increasing dramatically and we don't expect it to slow down any time soon.
Hot stamping makes use of a hot stamping press, metal type or logo dies, and hot stamping foil (if you choose to add color).
The hot stamping operation proceeds as follows:
press heats up the printers' type or logo die
press engages the heated die or type with the foil
ink is transferred from the foil to the substrate/part being marked
press then disengages at the end of the marking cycle leaving behind a crisp, permanent impression on the part.
We create custom, alphanumeric type or hot stamping dies with almost any font, symbol or image. Our design process and manufacturing operations deliver customization of everything from high-end hand bags to luggage tags to padfolios to book bindings.
No matter what your hot stamping or imprinting application, Durable Technologies manufactures and supplies an extensive array of brass and steel type and logo dies, printers' type, monogramming type, Kingsley® wire marking type, heat shrink sleeving type, type holders, magnesium dies, branding iron dies and much more.
Click on any of the links to the right for more information on our Hot Stamping Type and Dies. You can also contact us now to speak with someone in Sales.
Click here for more information on our Hot Stamping Foils and Ribbons.
Click here for more information on our Hot Foil Stamping Printers.