Hot Stamping Foils and Ribbons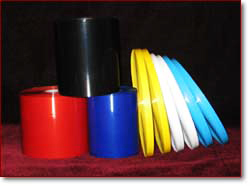 Durable Technologies offers the most comprehensive line of hot stamping foils available for decorative printing. Our hot stamping foils are formulated to meet the most demanding applications for leather goods, greeting cards, ribbons, publishing, cosmetic packaging, commercial printing, and labels. Our customers have come to rely on the five key attributes of our hot stamping foils: consistency, abrasion resistance, adhesion, sharp detail and brightness.
Durable Technologies also offers a series of semi-gloss pigmented hot stamping foils (date code ribbons) for wire marking and heat-shrink sleeving as an alternative to Kingsley's® No Fault, K-30 and K-290 formulas.
Click on either of the links to the right for more information on our line of Hot Stamping Foils and Ribbons. You can also contact us now to speak with someone in Sales.