The HandJet 250 Portable Ink Jet Printer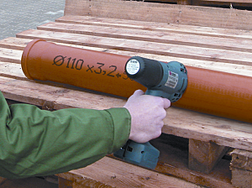 If you're looking for a portable ink jet printer that's versatile, rugged, virtually maintenance free and easy to use, we recommend the HandJet 250 mobile printer. This battery operated Handjet printer offers great mobility and can print on a variety of materials, including both porous and non-porous substrates as well as uneven surfaces and irregular shapes.
The HandJet 250, with its patented print technology, offers an affordable upgrade to traditional hand coders (such as stencil machines, rubber hand stamps and roller coders). The Handjet portable printer is perfect for a wide range of applications where product identification and portability is a must. Messages are created through your PC and transferred to the Handjet via a bluetooth module (cable free!).
Click here for more information on the newer model - HandJet 260.
**Only available to ship within the U.S.A.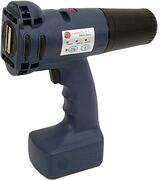 Technical Data:
Ethanol, Acetone and MEK-based inks available
Black, White, Red, Dark Blue, Light Blue, and Yellow ink cartridges available (up to 100,000 characters per cartridge using a 5x7 dot matrix)


Note - you can only run one color / ink formula for the life of the printer

Character Sizes: 10mm up to 27mm (approximately 3/8" up to 1-1/16")
Print Resolution: 16 dpi
Capable of printing in any orientation
Formats include alphanumeric text, automatic date and time, sequential numbering (serializing)
All programming done through your PC and transmitted to printer via bluetooth
Not compatible with Mac
Memory: 10 or 30 message blocks available
Battery: 24-volt rechargeable Li-Ion
Weight: 2 pounds (approximately)
Dimensions: 10" H x 2.9" W x 8.75" D
Only available in the U.S.A.
For more information on the HandJet 250 please call 866-344-7721.
Durable Technologies has delivered on time, on budget, and at the quality levels we expected...thank you. We always appreciate responsive and responsible suppliers. New Source Corporation Read More