Branding Irons and Branding Dies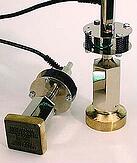 Branding is possibly the most practical and economical way to permanently mark almost any material other than metal or glass. Fine furniture and other works of art are frequently branded to advertise a trademark, logo or manufacturer's name or to "sign" or individualize a craftman's work. Branding is also used to identify tools or equipment for personal or security purposes.
Materials suitable for branding include cork, chamois, leather, plastics, paper, rubber, wood, particle board and wallboard, even meats and cheese! Our branding irons have been used for branding barrels, batteries, boxes, brooms, crates, ladders, lumber, pallets, plastic parts, rubber gloves, telephone poles, tires, tool handles, wooden furniture, and a myriad of other objects.
Click on any of the links to the right for more information on our line of Branding Irons and Dies. You can also contact us now to speak with someone in Sales.