Semi-Automated, Drill Press Branding Irons
Our drill press branding irons are designed for semi-automated branding applications in environments ranging from the craftman's workshop to the small manufacturing facility. Quality engineering with industrial grade construction provides low cycle cost and years of dependable use.
The powerful and durable performance of a Durable Technologies electric branding iron produces a permanent, indelible, imperishable brand, time after time. We engineer our products to live through the most arduous and demanding use so you can be confident of a lifetime's reliable service. Our branding irons are built around an ultra strong, alloy steel, hexagonal heater head that can be clamped in a vise or fixture for use or disassembly.
Drill Press Branding Iron Features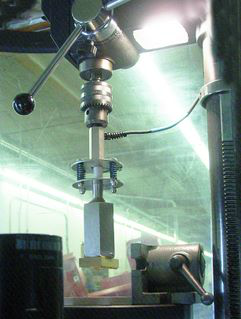 Precision element wound around a high conductivity core provides consistent die temperature and a long service life
Fits all drill presses with 1/2" capacity chuck
Self leveling branding head floats on four springs ensuring uniform impressions
Nickel plated hexagonal steel case for strength and durability
Heat deflectors diffuse convection currents
Dies can be supplied blank or engraved to your specification
Drill Press Branding Iron Models

Model
Wattage
Height
DP-225
250W
9 1/4"
DP-350
350W
9 1/4"
DP-500
500W
9 1/4"
DP-700
700W
10"