Industrial Stencils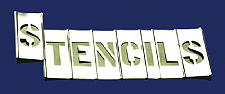 When it comes to stenciling product identification, shipping information, or other valuable information that requires a clear and permanent mark, our stenciling products stand up to the test. When you combine our stencils and applicators, you can be sure you have a "system" that will meet your coding needs.
Our stencils can be made for any industrial application. Material options include oilboard, mylar, magnesium or brass. Also available in interchangeable number and letter sets. Brushes, rollers, and spray cans are the three primary methods of applying inks and paints when using stencils. Stencil cutting machines and oilboard are also available for do it yourself, in house stencils.
Click here for more information on Industrial Mil Spec Inks.
Stencil Cutting Machines
Make your own stencils quickly and easily with the Marsh Stencil Express. This electronic stencil cutting machine cuts 24" wide material and is powered by software that can be installed on your existing PC (requires one of the following operating systems: Windows 95, 98, ME, 2000, XP, Vista, or Windows 7.)
With the Marsh Stencil Express system you can cut stencils with characters as small as 1/4" to as tall as 23" on a variety of materials including .011 oilboard, polyethylene, sandblast, stencil mask, vinyl, magnetic and other materials.
*Stand shown in photo is an optional item.
Industrial Stencil Inks
All of our ink has been specially formulated to meet the most stringent quality control standards. Permanent, waterproof, light resistant, fast drying - we provide high quality inks for all applications. Recommended for use with fountain brush or fountain roller.
Standard colors: Black and Red
Available in quarts (0.95L) and gallons (3.8L)
Click here for more information on Industrial Mil Spec Inks.
Spray Industrial Stencil Inks
Spray Stencil Inks are useful for permanent, waterproof, fast drying bold marks on any surface. Our spray inks are lead free, CFC and CFHC free. All ink formulations comply with CONEG legislation.
Standard colors: Black, Blue, Green, Orange, Red, White and Yellow
Packed in 14 fluid ounce cans - Net weight 11 oz.
Fountain Brush for Industrial Stencils
Our Fountain Brush ensures solid stencil coverage and strong, clear marks. These brushes are great for uneven surfaces, such as crates,concrete, or wood. Includes polypropylene cap to protect genuine hog's hair tip.
Fountain Roller for Industrial Stencils
The pump action of our Fountain Roller gives you fast, uniform ink dispensing without fading or flooding. Replacement neoprene rollers available.
Interlocking Brass Stencils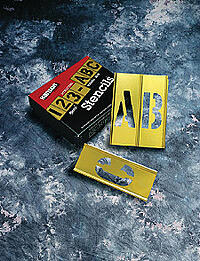 Our quality brass stencils have interlocking sides to create easy to read stencil patterns. With our stencils you can create different words and numbers as needed. Available in number and letter sets, or both.