Industrial Stencils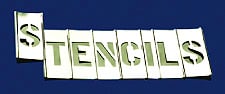 When it comes to stenciling product identification, shipping information, or other valuable information that requires a clear and permanent mark, our stenciling products stand up to the test.
Our stencils can be made for any industrial application. Material options include oilboard, mylar, magnesium or brass. Also available in interchangeable number and letter sets. Brushes, rollers, and spray cans are the three primary methods of applying inks and paints when using stencils.
Industrial Stencil Inks
All of our ink has been specially formulated to meet the most stringent quality control standards. Permanent, waterproof, light resistant, fast drying - we provide high quality inks for all applications. Recommended for use with fountain brush or fountain roller.
Standard colors: Black and Red
Available in quarts (0.95L) and gallons (3.8L)
Click here for more information on Industrial Mil Spec Inks.
Interlocking Brass Stencils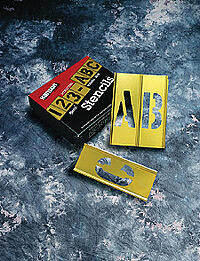 Our quality brass stencils have interlocking sides to create easy to read stencil patterns. With our stencils you can create different words and numbers as needed. Available in number and letter sets, or both.