Steel Hand Stamps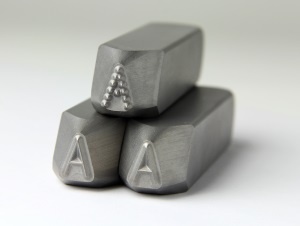 Durable Technologies has a steel hand stamp for your part marking requirements. We manufacture, according to your specifications, heavy duty steel hand stamps that provide extra long service life. Made from a special grade of tool steel, they resist spalling and mushrooming.
Simple or complex text or logos and designs made to order, including trademarks and maker's marks. Sizes range from tiny steel hand stamps to mark jewelry to large steel hand stamps to mark steel slabs. Characters can be sharp face, low stress full (round) character, low stress dot character, or customized to your specific marking requirements.
Click on any of the links to the right for more information on our line of Steel Hand Stamps. You can also contact us now to speak with someone in Sales.
Also available: