Steel Hand Stamps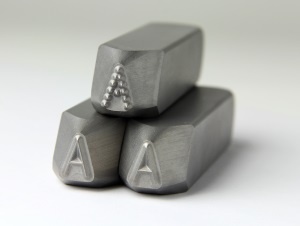 Durable Technologies has a steel hand stamp for your part marking requirements. We manufacture, according to your specifications, heavy duty steel hand stamps that provide extra long service life.
What makes Durable Technologies Hand Stamps Different?
Made from a special grade of cold forged tool steel, these hand stamps resist spalling and mushrooming and deliver extra-long service life.
What types of Hand stamp design are available?
Simple or complex text or logos and designs made to order, including trademarks and maker's marks. Sizes range from tiny steel hand stamps to mark jewelry to large steel hand stamps to mark steel slabs. Characters can be sharp face, low stress full (round) character, low stress dot character, or customized to your specific marking requirements.
What are the most common uses for hand stamps?
Durable hand stamps can be made for marking on flat, curved, concave or convex surfaces - for hand stamping part numbers, patent numbers, trade names, trademarks, special lettering or other data required to permanently identify a part or material.
There are a wide variety of allocations for hand stamps including the following.
Welder identification hand stamps are hand stamps that are used to identify the work of a specific welder. The marks are often made in the field and need to stand up to harsh, industrial environments. It is essential that the marks are both easy to make and easy to read because they are typically referenced during inspections.
Tool makers mark's have traditionally played an important role in the manufacturing process; these marks identified the maker of the tool and stood as a permanent promise of quality and workmanship. Whether it be five years or one hundred years after the tool was made, the makers mark was sometimes the only way to identify where a tool originated.
The ATF now requires the company name and location on many firearm components. Hand stamps are ideal for marking low-volume production firearm parts.
For companies that have been certified by the American Petroleum Institute (API), the API quality stamp is a mark of pride and a commitment to quality. We manufacture a line of APIQ steel stamps to help manufacturers easily apply the APIQ logo.
Learn more about hand stamp applications on our blog.
Can I get custom hand stamps?
Durable Technologies' steel stamps and marking dies are custom engineered for identifying industrial products. Every die blank is machined to the user's specifications. Durable's custom dies satisfy just about any user requirement for marking machines, punch presses, press brakes and other machines.
What can be customized?
Sizes of the shank, characters, or graphic

Design and graphics style

Character number, font, and size
Click on any of the links to the right for more information on our line of Steel Hand Stamps. You can also contact us now to speak with someone in Sales.
Proper marking technique using hand stamps
Start with a solid surface to work on
Pick the right hammer
Use the right force
Get set
Make you mark
Learn the details of a correct hand stamp mark here to make your best mark every time.
Hand stamp success stories
C&C Metals, located in West Boylston, MA, had a problem. How would they direct part mark the end of a very expensive custom ship drive shaft and get it just right every time? Read their story here.
Oowee Products of Asheville, NC creates custom, hand-crafted, leather sleeves for mugs and other beer accessories. They were looking for a custom hand stamp letter set and that's where Durable Technologies came in. Read the story here.
Sharrow Lifting Products manufactures and sells a full line of lifting slings, rigging equipment, tie-down equipment, and other specialty lifting devices. When their old hand stamps started to chip and pieces were flying off the stamp when hit they knew they needed to find a better solution fast. Read their story here.
Hand stamp accessories available: