Used to identify the manufacturer of the tool, tool makers' marks can be whimsical and ornate, no-nonsense and simple, or anything in-between.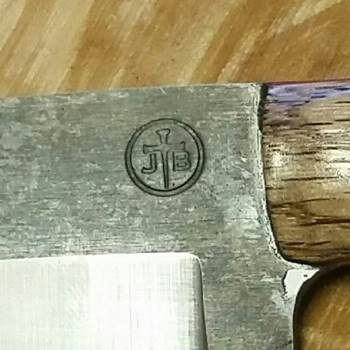 Toolmakers' marks have traditionally played an important role in the manufacturing process; these marks identified the maker of the tool and stood as a permanent promise of quality and workmanship.
Whether five or one hundred years after the tool was made, the maker's mark was sometimes the only way to identify where a tool originated.
In fact, a thriving collector's industry has grown around antique tools with tool makers mark's and even the stamps used to make the marks themselves. While antique makers' mark hand stamps don't pop up often, they are highly sought after.
One option available for those looking for these elusive hand stamps is a custom-made steel hand stamp. Of course, a new custom hand stamp isn't going to be the same as an actual antique tool makers mark stamp, but in certain situations, it might be a solution.
If, for instance, the stamp is needed to finish a reproduction piece or to refinish an antique tool then a custom stamp might be acceptable.
Made from high-quality, long-lasting steel, our custom hand stamps can be manufactured with nearly any design, logo, numbers, letters, or symbols. We have extensive experience working with hobbyists, craftsmen, and artisans to create affordable custom hand stamps. We can walk you through the design and specification process so your stamp turns out just right.
You can contact us to learn more about our custom hand stamps or follow the links below to see some examples of custom hand stamps we've created.
You may be interested in these posts:
This post was published on February 28, 2023 and updated on February 28, 2023.