Steel Inspection Stamps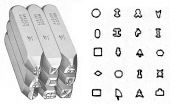 Highest quality hand stamps and best variety of styles for rugged indent marking applications. Choose from 672 symbols to identify specific inspectors or operators. Durable steel hand stamps for metal marking - the best steel marking tools available!
Click here to download our Symbol Chart.
Click here for more information on our Center Punch.
Pre-Inked Rubber Ink Stamps
The ink is in the stamp! Quick, efficient, and cost effective marking. Our ink formulation is fast-drying, permanent, and water resistant when fully cured. These stamps are ideal for marking any slick or hard to mark surface such as metal, glass, plastic, leather, gloss paper, etc. Refill inks are also available.