Used in a variety of industries, inspection stamps are important for quality control. Quality inspection stamps need to produce a clear, legible mark and, in some instances, the mark they make needs to be permanent.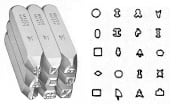 We offer a number of stamping options that could be used for quality inspection stamps, but we specifically manufacture a line of inspection symbol steel hand stamps.
Our inspection symbol hand stamps come in a large selection of designs from simple or complex text or logos and even designs made-to-order. You can choose from 672 standard symbols to identify specific inspectors or operators. Our stamps are available in a wide range of sizes from tiny steel hand stamps for personalizing jewelry and large stamps for marking steel slabs. We also carry handstamp holders and hammers to promote operator safety.
To help meet all inspection needs, our inspection symbol steel hand stamps are available with sharp face, low stress full (round) or low stress dot characters.
For applications where a stamping machine is used for quality inspection stamping, custom steel dies, stamps and inserts can be created to fit almost any marking need or machine. For more information about custom dies, stamps, inserts, marking machines or to request a quote, please contact us here.
This post was published on November 18, 2014 and updated on October 20, 2020.