Click on any of the links to the right for more information on our Steel Stamps and Dies. You can also contact us now to speak with someone in Sales.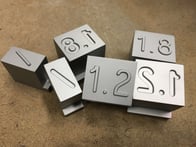 Our custom steel embossing and coining dies are most often used in the sheet metal industry. These male and female dies produce permanent and legible raised letters, including trademarks, code symbols, ornamental patterns, or virtually any specific design, on various gauges of sheet metals.
Roll Dies
For marking parts being machined on an engine lathe, turret lathe or screw machine, these rolls can be made for one or more lines of interchangeable type, or with combinations of solid logotypes and individual characters.
Custom Steel Stamps, Inserts, Segments and Dies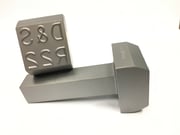 Durable Technologies manufactures custom steel stamps, steel inserts, steel segments, shank stamps and various stamping dies that allow you to direct part mark just about anything.