Hand Stamp Holders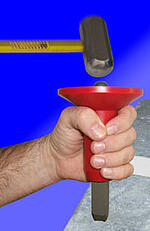 Promote operator safety!
Durable Technologies supplies the highest quality hand stamp holders in a variety of styles to promote operator safety in the workplace. Please scroll down to learn more about the variety of holders we offer; or if you prefer, you may fill out the short form on the right Request a Quote.
Click here for more information on our Hand Stamps.
Safety First Stamp Grip
Durable Technologies' Safety First Stamp Grip provides improved hand protection and better marks. It provides a safer alternative for operators who prefer to hold stamps in-hand. Pocket sizes range from 1/4" to 1" square. Your hand stamp must be a minimum of 2.5" in length to work in the Safety First Stamp Grip.
Features:
Sturdy 4" diameter hand shield
Design acts as an extension of the hand stamp
Notch indicates orientation of stamp
Anvil is made from heat treated shock steel
Benefits
Improved hand protection
Stamp with more confidence
Achieve a good mark on the first strike
Pocket Sizes Available:
1/4" square
5/16" square
3/8" square
7/16" square
1/2" square
9/16" square
5/8" square
3/4" square
7/8" square
3/4" x 1" rectangular
1" square
1-3/8" square
Custom – contact us
Adjustable Hand Stamp Holder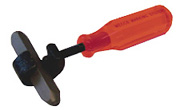 Simple clamping device removes operator's hand from striking area.
Holds hand stamps from 1/4" up to 3/4" square. Overall length is approximately 8.5".
Part # 18-3002
Adjustable Strap-Style Hand Stamp Holder

Hand stamps fit and lock into place with an adjustable nylon strap. A rubberized non-slip handle assures safety and precision.
Holds hand stamps from 1/4" up to 7/8" square. Overall length is approximately 6.5".
Part # 18-6524A1
Plate Marking Holders and Hammers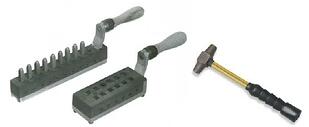 Plate Marking Holders are great for consistent alignment of markings requiring steel stamps. These holders can be designed for single or multiple line arrangements to suit common stamp blank sizes. Special hammers help avoid shadowing and allow best marking results.
They are great for marking steel plates, tubes, pipes
and large fabrications!
WARNING: Wear safety goggles. Strike squarely. Avoid glancing blows. Never strike this tool against another striking tool. Striking hard surface can cause chipping possibly resulting in eye injury. Discard immediately if chipping, mushrooming or denting occurs.