Sharrow Lifting Products manufactures and sells a full line of lifting slings, rigging equipment, tie-down equipment, and other specialty lifting devices. They need a rugged direct part marking method to permanently imprint a model number and other part identification information on the metal components of their products. When their old hand stamps started to chip and pieces were flying off the stamp when hit they knew they needed to find a better solution fast.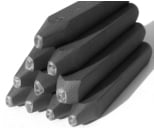 Thad Miller, Sharrow Lifting Products Safety Director, recently ordered a Durable Technologies number set of 3/8" hevi-bevl steel handstamps along with a Safety First handstamp holder. They had some trouble with the first holder chipping (the anvil area that you strike with a hammer) when he was using a hammer from another supplier. Once they started using the Durable Technologies two pound OE hammer all of the problems went away.
Mr. Miller says, "The issue that we were having is that the striking point on the Safety First Stamp Grip was not holding up as long as we thought it would.

What we were looking to determine was why Durable Technologies recommended that specific OE hammer. Did it work better with the Stamp Grip? Projectiles, coming from the striking point, put the user at risk of injury. This is something we are looking to eliminate. We understand that tools need to be replaced, but what can we do to keep the equipment in proper condition for the longest amount of time?"
Durable Technologies sent them a new Safety First handstamp holder at a discounted price and they started to use the 2# OE hammer per Durable's recommendation.
"The hammer seems to be making a big difference so far. When we were using the Stamp Grip with the old hammers, the striking point was beginning to deteriorate by this point. We have been using the Durable Technologies OE hammer for weeks now and the Safety First Stamp Grip still looks like new.We are very satisfied with how this has come together so far," says Mr. Miller.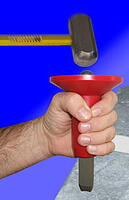 Durable Technologies manufactures heavy-duty steel hand stamps that provide extra-long service life per your specifications. Made from a special grade of tool steel, they resist spalling and mushrooming. Simple or complex text or logos and designs are made-to-order. Sizes range from tiny steel hand stamps to mark jewelry to large steel hand stamps to mark steel slabs. Characters can be sharp face, low stress full character, low stress dot character, or customized to your specific marking requirements.
This post was published on February 26, 2015 and updated on April 4, 2016.