Numbering Heads for Hot Stamping Applications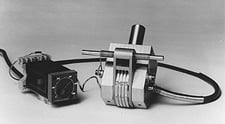 Durable Technologies can customize any of our numbering head packages with optional hot stamping equipment and proportional temperature control package. The hot stamping equipment provides a heating element in the wheel shaft and additional design features that are not used during cold stamping heads. When the optional proportional temperature control is used, a uniform stamping temperature can be maintained. Flat face characters are typically used for hot stamping applications in order to facilitate the transfer of ink from a hot stamping ribbon to the substrate that you're printing on.
Contact us now to speak with someone in Sales.