Industrial Ink Stamp Pads
Click here for more information on our Industrial Mil Spec Inks.
Click here for more information on our Rubber Stamps.
Mark II Reversible Stamp Pads and Kits for Fast Drying Inks

Specially designed for fast drying inks, Mark II reversible stamp pads feature an air tight case that keeps the pad moist for months. A two-sided design allows you to flip the pad over and continue stamping while the other side rejuvenates. It's like having two pads in one and ensures a constant ink supply. The inking surface area of the Mark II pad is 2.5" x 4" and you can order it dry (part# MARK II DRY) or as a kit which includes a dry pad, 2 oz. of 1250 all purpose air dry ink, and 2 oz. of reactivator (part# MARK II KIT DRY). The kits are available with Black, White, Blue, and Red ink (only Black and White meet Government Specification TT-I-1795A, Type I, and AA-208 and A-A-208 rev D).
*We can only ship this product within North America.
Metal Case Industrial Stamp Pads for Air Dry and Solvent Based Inks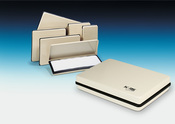 These cloth-covered felt pads are housed in a metal case and can be used with solvent-based inks which tend to damage plastic casings. This model has a hinged lid and a rubber seal which helps keep the pad moist when closed. Slower drying alcohol inks work well with this pad, but any solvent based in can be used. All pads come uninked. Made in the U.S.A.
#14185: 2-3/4" X 4-1/4"
#14186: 3-1/4" X 5"
#14190: 3-1/4" X 7"

Classic Felt Stamp Pads for Water Based Inks

These pads are designed primarily for water based stamp inks. Felt pads should not be used with most air dry inks as the solvents can have an adverse effect on the plastic and the pads will dry out very quickly. Made in the U.S.A.
#0: 2-1/4" X 3-7/16"
#1: 2-3/4" X 4-3/8"
#2: 3-1/16" X 6-1/8"
#3: 5-1/16" X 7"
Opaque Pads for Air Dry Inks
Discontinued...please see Metal Industrial Stamp Pads above.