Marking for Craftsman and Artisans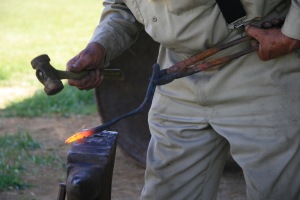 A one-of-a-kind, handcrafted product requires a special marking tool to apply the finishing touches. Whether you are making a blacksmith mark hot from the forge, adding your touch mark to your knife blade, or branding a logo into a woodworking project, Durable Technologies has a custom marking solution for you.
Durable Technologies will work with you to make a one-off, unique brass die with your logo, a custom maker's mark hand stamp, or provide you with a selection of other marking solutions to give your unique creation a direct mark worthy of your efforts.
Durable Technologies' steel stamps and marking dies are custom designed and engineered for marking your unique creations. Each metal stamping die blank is expertly manufactured to meet your specific requirements.
Durable custom steel stamps can be made for marking on flat, curved, concave or convex surfaces - for stamping logos, custom designs, part numbers, patent numbers, trade names, trademarks, special lettering, or other data.
Durable Technologies' stamps for craftsman marking - the best metal marking tools available.
Touchmark Stamp Applications
Touchmark stamps are unique by design, but in the examples below you can see some of the range in application and design of blacksmith touchmark stamps.
Call us for more information.