Fayetteville, North Carolina based Rustick Knives is a disabled combat veteran-owned and operated small business. Dedicated to making one-of-a-kind custom knives, Rustick Knives uses Durable steel stamps to make permanent makers marks in their products.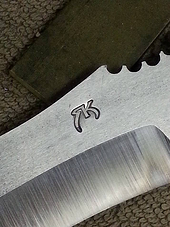 "[Durable] does a really great job and [they have] great personal service. I call up and talk to them all the time, and we come up with new ideas and designs and they are quick. I get my stamps in about a week...and the prices are very, very competitive."
Check out this video from Jack Stottlemire of Rustick Knives as he demonstrates how he uses Durable stamps in his homemade press to add a long-lasting, durable makers mark to his knives.
Durable recently donated a "Warrior Hands On" stamp for Jack's charity Warrior Hands. Warrior Hands aims to teach disabled combat veterans vocations and skills that allows them to start small businesses to provide for themselves and their families. As part of his work with the charity, Jack teaches veterans how to create knives and uses the stamp to mark the finished knife blades and to create custom charms for fundraising.
Durable Technologies' steel stamps and marking dies are uniquely engineered for marking most all industrial products and materials. Each steel stamping die blank is expertly manufactured to the customer's specifications. Our custom steel dies meet any user requirement for marking machines, punch presses, press brakes, and other machines. Durable custom steel stamps can be made for marking on flat, curved, concave or convex surfaces - for stamping part numbers, patent numbers, trade names, trademarks, special lettering, or other data. Durable Technologies' stamps for steel marking - the best steel marking tools available.
Click here to contact us to discuss your steel stamping requirements.
This post was published on January 29, 2014 and updated on October 15, 2020.