Inline CNC Marking Head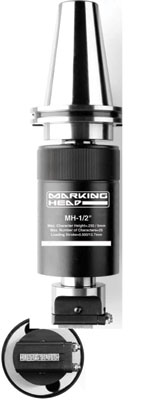 With the Inline CNC Marking Head it's possible to mark the part while still setup in the machine, eliminating costly secondary operations, additional equipment and labor. Designed to work in conjunction with CNC machining and turning centers, as well as any manual turning, milling or drilling machines.
Alternative to Dorian Tool's comparable marking head (call us at 866-344-7721 for more information).
Features & Benefits:
The patented in-carousel design and compact size easily positions the in-tool magazine or turret without interfering with machine components or work piece. Individual steel type and/or logos available.
Holds up to (15) 1/16" interchangeable characters
Standard characters sizes include 1/16", 3/32",1/8", 5/32", and 3/16" (custom sizes also available)
Integrated type holder
CNC marks in less than one second
Adjustable and uniform marking depth
Precise marking location repeatability
Positive locking
Easy type changeover
CNC mark steel, CNC mark aluminum, CNC mark titanium
Accepts blank spacers
Shank sizes: 20mm, 25mm, 3/4" and 1"
With the Inline CNC Marking Head you'll be able to mark date codes, part numbers, company name, company logo plus any other alphanumeric text. This tool is not recommended for serializing (see DuraDot® or Dot Peen).