Metal Type and Logo Dies for Package Date Coding
Replacement Metal Type, Logo Dies, and Date Coding Type for Every OEM Packaging Machine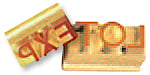 As the premier type supplier in the country, Durable Technologies manufactures brass and steel logo dies and packaging type used for coding, imprinting, labeling, embossing, and debossing. We are the largest manufacturer of replacement metal coding type for all of the popular OEM equipment including Norwood® Imprinters, Markem® Touch Dry Coders, Jones® Cartoners, Open Date® Labelers, Norden® Tube Fillers, Kalix® Tube Fillers, and many more. Our replacement packaging type and steel stamp dies are commonly used in cartoners, sealers, tube fillers, labelers, wrappers, thermoform and imprinters for hot or cold marking of labels, tags, packages, cartons, tubes, boxes, and plastic.

Click here for more information on our OEM alternative date coding type.
Click on any of the links to the right for more information on our Date Coding Type. You can also contact us now to speak with someone in Sales.
*We supply type and logo dies for the OEM's listed above but in no way indicate manufacturer's endorsement.