Rubber Ribbed Type and Logo Dies
Interchangeable Sorts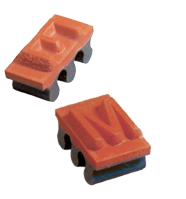 Rubber ribbed type is used in packaging, labeling and imprinting machines. It also can be used in most standard conveyor line coders and marking machines. Equivalent to other ribbed type brands such as: Grip-Line®, RibType®, Base-Loc®, Sta-Tite®, etc. Individual ribbed type characters (known as "sorts") can be ordered individually or in pre-packaged fonts including alphabets and/or numbers, as well as popular symbols. Natural rubber rib type is best for general purpose use with water-based or alcohol-based inks but we also supply Black Buna, Black Neoprene, Green PVC and Silicone when being used in harsher applications (for example, oil-based inks, chemicals, acids, etc.).
Click here for more information on our Porelon® Ink Rolls.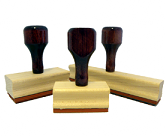 Interchangeable Custom Print Dies

Custom rubber print dies are ideal for special designs, trademarks or when large blocks of copy do not change. Solid print dies promote uniform typeface wear, save time and costly set up, and prevent spelling or coding errors. Custom logos can also be ordered as single-line or multiple-line mats and can be supplied with ribbed type backing or adhesive.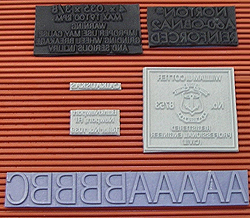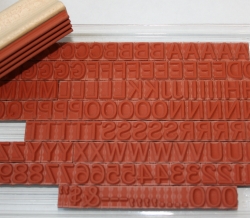 *USE OF THE ABOVE REGISTERED TRADEMARKS IN NO WAY INDICATES MANUFACTURER'S ENDORSEMENT
Typestyle & Sizes