Bench Model Pneumatic Impact Presses
Our pneumatic impact press is simple to set up, easy to operate, and offers excellent repeatability. It provides significant advantages in terms of control, safety, reliability, and are low maintenance. Pneumatic presses are best suited for higher volume marking requirements. Your pneumatic press can be operated automatically using hand controls (control package options listed further below) or manually by pulling the lever.
In addition to stamping and marking, our presses can be used for many other manufacturing applications including: riveting, staking, forming, punching, bending, crimping, piercing, assembling, broaching, and coining.
Durable Technologies can provide you with a turnkey impact press package including custom steel shank stamps, steel type, type holders, and manual or automatic numbering heads depending on your specific part marking requirements. We can also help you design a custom fixture for your parts to hold them safely and securely in place while marking.
(Check out our blog post which covers the versatility of our impact presses across a variety of manufacturing applications).

Impact Press Principles of Operation
Since these presses operate on a spring-actuation principle, the degree of impact is easily adjustable. The press contains a spring that is compressed during energy section travel. Press capacity can be easily adjusted by increasing or decreasing spring size and/or tension. When the release point is reached, the compressed energy is discharged causing the internal hammer to deliver the powerful impact. There are a variety of sizes of springs available for each of our impact press models. Vertical travel is accomplished by a gear and rack arrangement.

Step 1 - The energy section advances towards the workpiece by gear rack and pinion, powered either automatically by double-acting pneumatic cylinder (if using a pneumatic unit with hand controls) or manually by the operator pulling down the lever.

Step 2 - Once the press stroke is engaged and the workpiece is contacted, the press stroke continues. The workpiece is held in place by the pressure from the energy section (this is a significant safety feature). The impact spring is compressed and builds force as the press continues to maintain contact with the workpiece.

Step 3 - When the ball bearings reach their release point, the powerful impact is discharged. The impact spring delivers force to the hammer, which in turn strikes the plunger (tool holder). You can control the amount of impact depending on which spring you choose and how much tension is applied.

Want to learn more about Stamping Presses? Check out article Stamping Press 101.
Pneumatic Press Models
MC-19
MV21**
MV35**



Max. Impact
3/4 ton
3-3/4 tons
7-1/2 tons
Throat Depth
3-7/8"
.846" (21.5mm)
1.023" (26mm)
Max. Stroke
1.260" (32mm)
2.047" (52mm)
2.441" (62mm)
Shank Size
6mm dia. x 27mm
10mm dia. x 38mm
16mm dia. x 48mm
Impact Springs

Medium (2.5mm)

Light* (2.2mm)

Extra Light (2.0mm)

Heavy (4.0mm)

Medium* (3.5mm)

Light (3.0mm)

Extra Light (2.5mm)

Extra Heavy (7.5mm)

Heavy* (7.0mm)

Medium (6.5mm)

Light (6.0mm)

Net Weight
50 lbs.
135 lbs.
365 lbs.
Air Pressure Req.
80-90 PSI
70-75 PSI
85-90 PSI
Download Manual
MC-19 Manual
Download CAD Drawing
MC-19 CAD Drawing
Download Spec Sheet
MC-19 Spec Sheet
* Installed with standard press package (other sizes available).
** MV21 supersedes MC-21 (MC-21 press is no longer available but spare parts are still available).
** MV35 supersedes MC-35 (MC-35 press is no longer available but spare parts are still available).
Our sales and application engineers are ready to develop any other industrial traceability and marking solution that is right for you.
Control Package Options for Pneumatic Impact Presses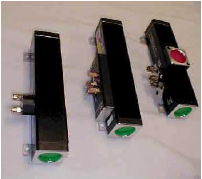 Renco Control Package with two buttons on either end, integrated 4-way pneumatic control valve, filter-regulator, and all required hoses and fittings. Compatible with impact press models MC-19, MC-19U, MV12VPS, MV21 and MC-21U. .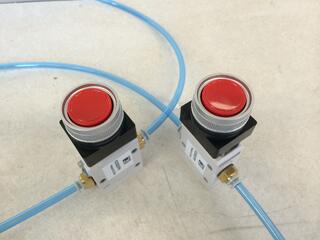 Ross Control Package with two push buttons, integrated 4-way pneumatic control valve, filter-regulator, and all required hoses and fittings. Compatible with impact press models MV21, MC-21U, MV35 and MC-35U.