Ideal for high volume, repetitive indent marking applications, pneumatic impact presses utilize hand controls to operate the press which powerfully impacts the marking surface. When using the press for marking applications, the internal hammer forces a pneumatic press die into the marking surface.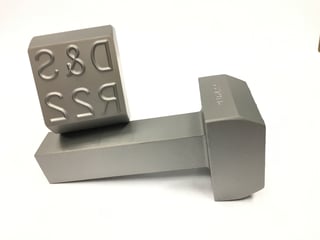 Pneumatic Press Applications and Advantages
Pneumatic presses are used for a number of diverse applications. Although they are commonly used for stamping and marking, pneumatic presses can also be used for riveting, staking, forming, punching, bending, notching, crimping, piercing, assembling, broaching, and coining. This flexibility is one of the advantages of using an impact press.
Pneumatic impact presses also offer advantages in terms of control, safety, and reliability. These advantages are especially significant because impact presses are often used for high volume applications. Excellent repeatability, pared with safe and easy operation, make pneumatic presses an ideal marking solution.
You can see an example of a pneumatic press in action below.
Pneumatic Press Dies
When using a pneumatic press for part marking, you'll need to fit your press with either a shank stamp, a press-style holder filled with steel type, or a numbering head. Our shank stamps can be machined to your specific applications specifications, meaning customization is simple. And, because our pneumatic press dies are machined from steel, they are both durable and long lasting.
Learn More
Contact us to learn more about our impact presses, custom shank stamps, or any of our other direct part marking solutions.
This post was published on January 30, 2018 and updated on January 30, 2018.