Marking Firearms for Traceability and Tracking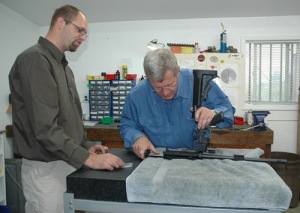 Marking firearms is becoming a more critical component of firearms and gun component manufacturing for an increasing number of reasons:
Regulatory bodies are mandating certain components of firearms be marked with a permanent direct part marked serial number to track firearms.
ATF required information such as serial number, gun model name and model number, manufacturer identity, city/state, and the caliber or gauge
Improved manufacturing, service, and warranty processes require item level traceability using serial numbers and or machine readable bar codes such as 2D data matrix
Companies want to create high quality branding and decorative markings in both wood and steel firearm components for commercial and competitive purposes
Durable Technologies marking solutions help our firearm manufacturing customers solve all of these problems and more. Depending on the time available, quality specifications, mark type required and budget, there are a number of options for marking guns and firearm components. Call us for more information.