Hot Stamping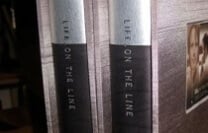 If you're looking to personalize your product by adding your name, monogram or company logo, please click on any of the links to the right or Contact Us now to speak with someone in Sales.
What Is Hot Stamping?
The hot stamping process includes a hot stamping press, metal type or logo dies, and hot stamping foil if you choose to add color. The hot stamping press heats up the type or logo die, the press engages the heated die or type with the foil and transfers the ink from the foil to the substrate or part being marked. The press then disengages at the end of the marking cycle leaving behind a crisp, permanent mark on the part.
Benefits of Hot Stamping
Hot stamping is a flexible process allowing the user to mark different materials including leather, plastics, rubber, fabrics and more.

Hot stamping is a very simple, robust, and reliable marking process. Load your metal die into the hot stamping press, add your hot stamping foil (no foil required for debossing only), fixture your part and make your mark.
Hot stamping dies can be supplied in a variety of metals including magnesium, brass, and steel. We will be happy to recommend the appropriate material depending on the material being marked, required depth, volume, budget, and type of press being used.
Click on any of the links to the right for more information on our our various Hot Stamping products. You can also contact us now to speak with someone in Sales.