Rubber Stamp Marking Products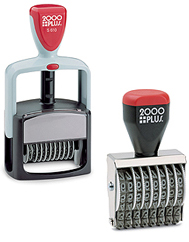 SPECIAL ORDER BAND STAMPS
Made-to-order rubber band stamps may include any number of bands, alpha or numeric text with up to 1/2" characters. To order a custom band stamp, follow the three easy steps below. Call for pricing. Please allow extra time for custom band stamps.
Choose Self-Inking or Rubber Stamp Model - Self-inking stamps are available in black, red, blue, green, or violet ink colors. Standard rubber stamps require an ink pad.
Determine Layout and Number of Bands - Your band stamp can be made up of numbers and/or letters. Each letter or numeral position in your imprint is a band. Numeral bands are made up of 0-9. Alpha bands are available as A-M, N-Z or A-Z. Bands can be arranged in any order.
Select Character Size -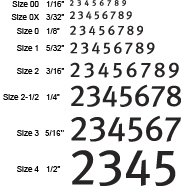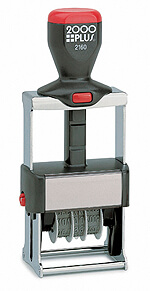 Self-Inking, Heavy Duty Date Stamps
Heavy duty, all-metal construction
Any custom message above and/or below the date.
Available in black, red, blue, or 2-color print (blue text, red date)
Replacement pads are available for all self-inking daters.