Wire Marking Printers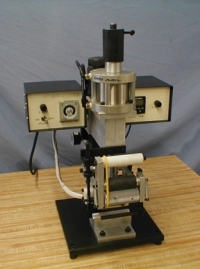 Durable Technologies' wire marking printers are available in two configurations - manual and pneumatic - to meet both your application requirements as well as your budget. Both models can be easily interfaced with wire processing machines and their small footprint makes them an easily integrable into existing production lines. Combined with our DuraChrome® wire marking type with concave characters and DurAlloy® flat face type for heat shrink sleeving, you have the ability to mark a wide range of materials including cable and wire, heat-shrink sleeving and plastic tubing. Another nice feature of our printer is the automatic foil feed which advances the foil after each impression is stamped.
Our printers are capable of marking 24 gauge wire all the way up to large battery cable and multi-conductor cord. If you're heat-shrink sleeving, our printers can stamp from 3/32" up to 2" I.D. We also provide 1-, 2- and 3-line typeholders and a variety of hot stamping foils capable of printing onto a wide range of substrates. In addition to Kingsley® alternative wire marking concave type, we can also make custom engraved logos for when your printing blocks of text that don't change.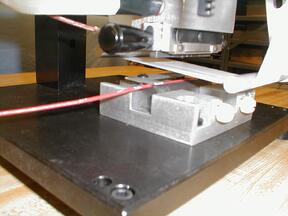 Click here for more information on our Wire Marking Type.
Click here for more information on our Hot Stamping Foils and Ribbons.