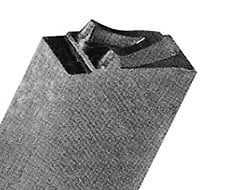 Durable Technologies prides ourselves on being able to offer the widest range of marking tools anywhere. Some applications are tougher than others and one that companies often struggle with is wire marking. If you are using a Kingsley® Marking Machine then we have the right wire marking type for you.
DuraChrome Wire Marking Type and DurAlloy Heat-Shrink Sleeving type, symbols, and spacers will fit Kingsley marking machines and type holders.
DuraChrome (curved type) is ideal for marking a wide range of insulated wire and other curved surfaces. DuraChrome is manufactured specially to fit Kingsley and Ackerman-Gould® marking machines. We also supply curved type to mark various radii of medical vials, tubes, pen barrels, pencil handles and brushes.
DuraChrome is available in a range of sizes optimized for marking outside diameters between 0.035" and 0.350". Select "V" series for vertical reading type and "H" series for horizontal reading type.
DuraChrome's unique chrome coating provides a harder than steel marking surface at a price significantly below steel and is AVAILABLE FOR SAME DAY SHIPMENT!
Our DurAlloy brass type has a flat face character and is commonly used for stamping onto flat surfaces such as heat-shrink sleeving, nylon cable ties, and more.
Contact us for easy conversion from Kingsley to Durable Technologies Type.
Click here for more information on our Hot Stamping Foils and Ribbons.
Click here for more information on our Wire Marking Printers.
This post was published on February 16, 2015 and updated on March 19, 2015.