Steel Type: Slotted Type and Utility Type
Durable Technologies' Slotted Steel Type and Utility Steel Type will satisfy every industrial marking application where interchangeable information is required. We also manufacture steel marking type for every O.E.M. impact press including G.T. Schmidt®, Pannier, Matthews®, Hilti®, Columbia®, Automator®, can marking embossing type and others. Steel type holders can be supplied with a shank for press style use or a simple hand held version for use with a striking hammer.
Be sure to check out our Type Holders.
Slotted Type
Our heaviest duty all purpose steel type for the toughest applications in steel mills, forging mills, foundries and others
Slotted on one side to allow easy for orientation of character
Through hardened for durability
Standard character sizes shown below (other sizes are available)
Standard Sizes

| | | | | |
| --- | --- | --- | --- | --- |
| PART NUMBER | CHARACTER SIZE (C) | HEIGHT (H) | WIDTH (W)* | LENGTH (L) |
| 05-0100 | 3/32" | 7/16" | 1/8" | 1-1/4" |
| 05-0116 | 1/8" | 7/16" | 3/16" | 1-1/4" |
| 05-0144 | 3/16" | 7/16" | 3/16" | 1-1/4" |
| 05-0208 | 1/4" | 1/2" | 1/4" | 1-1/4" |
| 05-0294 | 3/8" | 5/8" | 3/8" | 1-1/4" |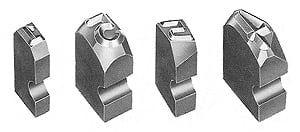 Blank Spacers
| | |
| --- | --- |
| PART NUMBER | DESCRIPTION |
| 05-0100SP | 7/16 X 1/8 WIDE X 1-1/8" |
| 05-0116SP | 7/16 X 3/16 WIDE X 1-1/8" |
| 05-0208SP | 1/2 X 1/4 WIDE X 1-1/8" |
| 05-0294SP | 5/8 X 3/8 WIDE X 1-1/8" |
Utility Type
All- purpose steel type
Interchangeable - standard blank size enables use of multiple character sizes with same holder
Durable - through hardened and annealed at hole for toughness
Standard character sizes shown below (other sizes are available)
Standard Sizes
| | | | | |
| --- | --- | --- | --- | --- |
| PART NUMBER | CHARACTER SIZE (C) | HEIGHT (H) | WIDTH (W)* | LENGTH (L) |
| 04-0114 | 1/16" | 3/8" | 1/16" | 7/8" |
| 04-0118 | 3/32" | 3/8" | 3/32" | 7/8" |
| 04-0120 | 1/8" | 3/8" | 1/8" | 7/8" |
| 04-0124 | 3/16" | 3/8" | 3/16" | 7/8" |
| 04-0126 | 1/4" | 3/8" | 1/4" | 7/8" |
Blank Spacers
| | |
| --- | --- |
| PART NUMBER | DESCRIPTION |
| 04-0100-062 | 1/16" Utility Spacer |
| 04-0100-093 | 3/32" Utility Spacer |
| 04-0100-125 | 1/8" Utility Spacer |
| 04-0100-188 | 3/16" Utility Spacer |
| 04-0100-250 | 1/4" Utility Spacer |