John Pegg, creator and owner of Kerosene Fragrances in Marysville, Michigan had a problem.
His elbow hurt.
John created a popular fragrance line and was marking the custom brass name tags with individual letter hand stamps and a hammer. One or two, even twenty marks are not hard on an elbow but he was making up to 70,000 hammer hits in a year!
That's when his elbow blew out and he decided it was time for a more automated solution.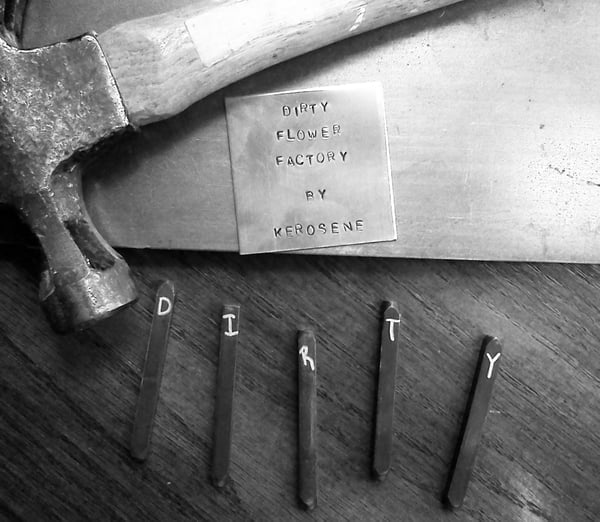 John says "We started looking online and found Durable Technologies and we ended up contacting two other suppliers but Durable was the first to respond. Right from the start, Matt was awesome and a lot of help. He replied quickly and always answered all of my questions. I have never had an easier process doing something I had no idea about!"
Last month, John purchased an MV35 impact press with a custom holder, fixture, and twenty-nine custom steel dies engraved with the different fragrance names.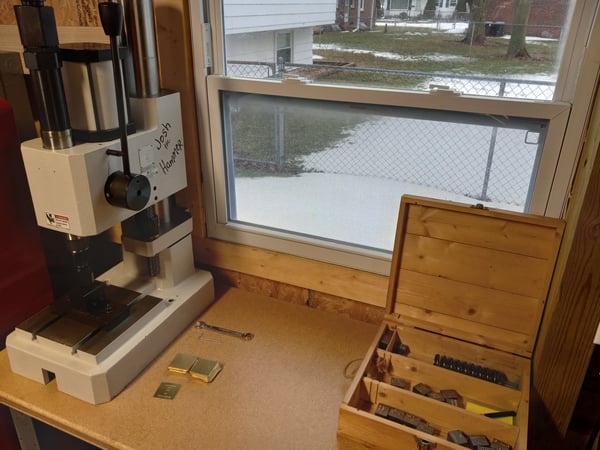 "The MV35 impact press is working flawlessly for my application. When I was marking everything by hand it took from two hours up to 10 hours sometimes just to manually mark a batch of orders. Now in 10 minutes, the order is done and the quality of the marks are consistent and very high quality. Thanks for all your help," says John.
You can view all of the different Kerosene scents and the brass tags that are then attached to his fragrance bottles here.
An Impact Press for your Part Marking Application
If your elbow hurts, Durable Technologies can provide you with a turnkey impact press package that will save you stress and possible injury.
We include custom steel shank stamps, steel type, type holders, and manual or automatic numbering heads depending on your specific part marking requirements.
We can also help you design a custom fixture for your parts to hold them safely and securely in place while marking.
Contact us for all of your part marking needs. We will help you make your mark!
This post was published on February 24, 2022 and updated on February 24, 2022.