DuraDot® CNC Marking Tool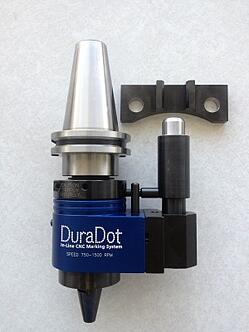 The DuraDot® is a spindle-actuated mechanical dot peen marking attachment for use in CNC machining centers. It creates alphanumeric characters, logos and much more in precise, low stress dot patterns.
The DuraDot® easily integrates into vertical or horizontal machining centers, milling machines and similar CNC machines with rotating spindles. It can be manually loaded or traverse through automatic tool changer processes.
Marking capabilities of the DuraDot® depend only on the capabilities of the machine's existing engraving or CAD software used. Dot density is adjusted thru RPM and feed rate settings.
Marking window sizes are limited only by the machining center itself. The DuraDot® is a cost effective inline alternative to dot peen marking machines used in secondary processes.
A variety of materials up to 55 Hrc can be marked with the carbide stylus including heavy metals, steel, titanium, aluminum, non-ferrous metals and plastics.
With the DuraDot® you can complement current machining center processes by adding marking as an additional operation. Using the machine's existing engraving software, unlike engraving or dot peen, you
can create marks faster. At a given RPM, the number of dots or marks per inch is controlled by the feed rate.

Easy to maintain and minimum wear items with no air or cutting fluids required to operate – only rotary action.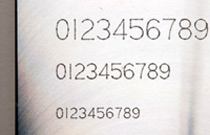 Faster than engraving (up to 80 characters or more depending on your CNC machine's capabilities)
Carbide stylus more durable than standard end mill cuttersLow stress stylus creates an insignificant amount of stress on the parts being marked (popular for Aerospace applications)
Exact control of dots per inch
Eliminates costly, secondary marking operations
Marks soft and hard materials (up to 55 Hrc)
Marks round, flat and uneven surfaces
Marks alphanumeric text, symbols, serial numbers and logos
Various fonts and character sizes available
Capable of marking in straight line, arc, circular and mirrored text
No additional software required to run the DuraDot

®

(uses CNC's existing engraving software)
| | | | |
| --- | --- | --- | --- |
| Char Size | Marking Plane | RPM | Feed Rate |
| 6mm | 2.5mm | 850 | 500mm/min |
| 5mm | 2.5mm | 850 | 500mm/min |
| 3mm | 2.5mm | 750 | 250mm/min |
| 2mm | 2.5mm | 750 | 250mm/min |