There are many firearms engraving options to consider. Direct part marking firearms and firearm components is becoming a more critical component of firearms and gun component manufacturing for an increasing number of reasons:
Regulatory bodies are mandating certain components of firearms be marked with a permanent direct part marked serial number to track firearms
ATF requires information such as serial number, gun model name and model number, manufacturer identity, city/state, and the caliber or gauge
Improved manufacturing, service, and warranty processes require item level traceability using serial numbers and or machine readable bar codes like 2D Data Matrix
Companies want to create high quality branding and decorative markings in both wood and steel firearm components for commercial and competitive purposes.
Durable Technologies' marking solutions help our firearm manufacturing customers solve all of these problems and more. Depending on the time available, quality specifications, and mark type there are a number of options for marking guns and firearm components.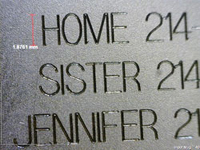 Pneumatic Press and roll dies are best suited for higher-volume marking requirements. They provide significant advantages in terms of control, safety, reliability, and are low maintenance.
The DuraDot® is a spindle-actuated mechanical dot peen marking attachment for use in CNC machining centers. It creates alpha-numeric characters, logos, bar codes, and much more in precise low stress dot patterns.
Dot Peen Marking Systems are versatile marking stations for small to medium size parts, and can be used to mark many materials ranging from plastics to 62Hrc metals. These electrically driven dot peen units require no air supply to operate making them a low cost investment with no consumables and relatively no maintenance.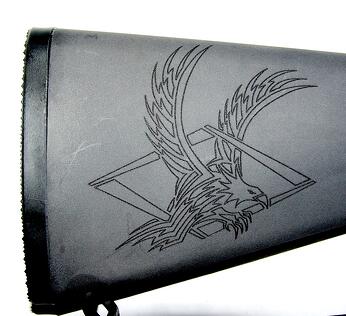 Laser Marking Systems are effective tools for direct part marking for Traceability, Branding, and Product Adornment. This non-contact, high-speed method of part marking does not require hard-tooling, making it a versatile solution for both short and long run production cycles.
Click here to read a story about a customer of ours that uses laser marking systems for firearm engraving.
This post was published on April 10, 2012 and updated on October 15, 2020.