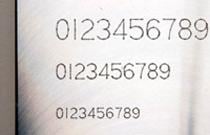 In the world of CNC marking, versatility is king. One of the advantages that makes the DuraDot® particularly versatile is that it does not require add-on's such as compressed air or electric. It also integrates easily into vertical or horizontal machining centers, milling machines, and similar CNC machines with rotating spindles and it can be manually loaded or traverse through automatic tool changer processes. The DuraDot utilizes standard CNC engraving or CAD software that is already loaded in the machine.
Some other advantages of the DuraDot CNC marking tool include:
Faster than engraving (up to 80 characters or more depending on your CNC machine's capabilities)
Carbide stylus more durable than standard end mill cutters
Low stress stylus creates an insignificant amount of stress on the parts being marked (popular for Aerospace applications)
Exact control of dots per inch
Eliminates costly, secondary marking operations
Marks soft and hard materials (up to 55 Hrc)
Marks round, flat and uneven surfaces
Marks alpha-numeric text, symbols, serial numbers and logos
Various fonts and character sizes available
Capable of marking in straight line, arc, circular and mirrored text
No additional software required to run the DuraDot (uses CNC's existing engraving software)
Check out the DuraDot Inline system in action:
We also offer the Inline CNC Marking Head which allows you to mark the part while still setup in the machine. This model, which uses individual steel type and a type chase, eliminates costly secondary operations, additional marking equipment and labor, making it a popular complement to the DuraDot marking tool. The Inline CNC Marking Head is designed to work in conjunction with CNC Machining and Turning Centers, as well as any Manual Turning, Milling or Drilling Machines.
This post was published on May 15, 2013 and updated on January 23, 2017.