Stamping presses combine the customization of steel stamps, type, and dies with medium- to high-volume repeatability in an easy to use marking machine.
What is a Stamping Press?
Stamping presses, also referrer to as impact presses, are either manual or pneumatic marking machines that incorporate a holder filled with steel type, a shank stamp, a roll die, or a numbering head above the marking surface; force is generated by compressing and then releasing a spring inside the press, and then the die is driven down which transfers the image from the face of the die onto the surface being marked.
In the video below you can see a manual, spring actuated press in action.
Stamping presses can be integrated into a production line or mounted, like the one in the video above, on a table top.
Why Use a Stamping Press?
Stamping presses are an excellent marking solution for repetitive indent marking applications. They are low maintenance machines that are relatively straight forward to use. Manual impact presses, in particular, are easy to operate.
One of the most important advantages of a stamping press is that it combines the flexibility and customization of steel stamps, type, dies, and numbering heads with machines that are ideal for medium- to high-volume applications. Stamps, type, and dies can be customized with logos or custom fonts and are manufactured from hardened, high-grade tool steel for long service life and durability.
Pneumatic Impact Press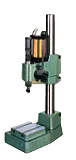 Ideal for high-volume applications, pneumatic impact presses can do more than just stamp. Pneumatic impact presses can be used for part marking, riveting, pressing, assembly, stamping, forming, punching, and shearing.
This style of press can be operated either manually or with a control package (higher volume applications typically dictate use of a control package). We carry three pneumatic press control packages that are designed to give you a range of options. Which control package you chose will depend on the press model that it's being used with, your preference for safety and ease of use, as well as your budget.
Manual Impact Presses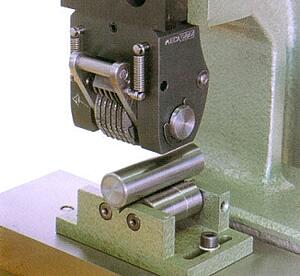 Manual impact presses offer users a safe, reliable marking solution that is easy to set up and to operate.
This manual style of press is best suited for low- to medium-volume applications. If you're not sure whether you need a manual or pneumatic stamping press, or have any other related questions, please contact us here.
Stamping Press Applications
Stamping presses are typically found in industrial and manufacturing settings, and over the years we've helped a number of companies find the right press for their particular application. You can check out a couple of those applications below.
Make an Impact with Durable Presses
Increasing Productivity with a Metal Marking Press
If you're ready to take the next step on a stamping press, be sure to check out How Do You Select an Impact Press?
Learn More
Click here to see how Durable Technologies can help you make your mark with complete marking solutions for any application! Or contact us if we can be of help with your part marking requirements. From agriculture to bookbinding to electronics manufacturing to blacksmithing, we can help you make your mark!
This post was published on April 25, 2019 and updated on April 25, 2019.