Metal marking presses are an ideal solution for applications where short cycle times are demanded but other marking methods don't fit the bill. They offer users a great degree of flexibility (both manual and pneumatic options) in what can be achieved, broadening a shops capability without being an overly complicated solution.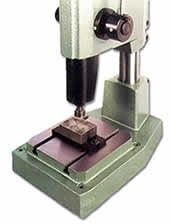 Typical Metal Marking Press Applications
Metal marking presses can be found in a wide range of industries and applications. Some of the most common include:
Part Marking
Riveting
Staking
Forming
Punching
Bending
Notching
Crimping
Piercing
How do Metal Marking Impact Presses Work?
Durable Mecco's impact presses, available as both manual and pneumatic models, generate force via the compression and release of an impact spring. High-volume, repetitive indent marking applications are best handled with the use of impact presses which achieve a very short cycle time that cannot be met with any other marking method.
Not sure which impact press is right for your application? Check out the Impact Press Guide!
What Our Customers Are Saying
Ted Strother of King Electronics found that an impact is superior to gradual pressing in its application. "Durable Mecco was able to recommend an impact press for our assembly operation to insert one part into another without deforming the part. We used to perform this application by hand but the press provides a quick, easy, repeatable solution."
Customer Driven One Stop Shop
As marking and identification application requirements have expanded, so to have Durable Mecco's capabilities and offerings. "A lot of customers use us as a one stop shop and come to us first for marking issues," says Clem Malinowski, General Manager at Durable Mecco. "More and more we act as marking consultants to help the customer to work through the application and directing them towards the best solution."
Durable Mecco's versatility has been showcased as new customer requests have led to an expanded product offering beyond traditional marking solutions such as impact presses, steel stamps, type, roll dies, and package date coding type and logos. New products include ink jet printers, dot peen markers, thermal ribbons and hot stamp foils, stencils, part marking, tags and I.D. plates. Durable Mecco has become the "go to" source for many companies seeking marking and identification solutions.
This post was published on August 31, 2016 and updated on October 15, 2020.