Value Added Engineering Impacts Product Marking, Productivity And Plant Safety
Most companies have long relied on standard engineering practices to guide their engineers as they work on product and tooling designs. Recent trends indicate that engineering guidelines are no longer relegated to product and tooling functions. Now many companies and industries are expanding these engineering guidelines to include standards for product marking.
As governmental regulations and market forces dictate new product traceability and quality standards, many industries seek out product marking specialists with which to partner. One such marking specialist is Durable Mecco, Inc. based in Franklin Park, Illinois. Durable Mecco's focus is on industrial marking applications utilizing impact presses, steel stamps, steel type, numbering heads, dot peen markers, and accessories. Durable Mecco's technical expertise and engineering capabilities were recently enhanced when it acquired traditional marking products specialist Mecco / M.E. Cunningham based in Pittsburgh, PA. Durable Mecco's value added engineering capability has proven to be a critical resource for many companies and industries with a wide variety of custom marking applications.
Impact Presses Increase Productivity
Durable Mecco's impact presses, manual presses or pneumatic presses, generate force via the compression and release of an impact spring. High volume repetitive indent marking applications are best handled with the use of impact presses which achieve a very short cycle time that cannot be met with any other marking method.
One such customer in need of a marking solution was SPX Filtran. The part to be marked was dome shaped stamped metal. It was specified that marking should occur automatically as the part was inserted into a fixture, like a time card in a time slot. The cycle time had to be short, as the operators were processing a high volume of parts. The shape of the part presented two challenges. First, pressing the mark would deform the part without proper fixturing. Second, the shape of the part required the slot of the marking fixture to be large, so a pinch point hazard needed to be carefully prevented.
Engineering special nesting and fixturing for holding various sizes and shapes of parts is routine for Durable Mecco. To solve this application, Durable Mecco engineers worked with SPX Filtran to create a sliding nest fixture. The dome shaped part is loaded onto the nest, which includes a strategically placed anvil to back-up the part at the marking location. The operator advances the nest through a custom-shaped slot that conforms exactly to the shape of the part. Marking occurs when the nest strikes a proximity switch.
The SPX Filtran system also included a quick-change steel type holder, allowing SPX Filtran to achieve a very high level of productivity in marking their parts.
Impact Presses Are Versatile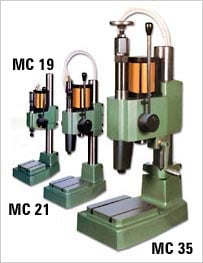 In addition to marking, impact presses are also useful for assembly, stamping, forming, punching, and shearing applications. Ted Strother of King Electronics found that an impact is superior to gradual pressing in its application. "Durable Mecco was able to recommend an impact press in our assembly operation to insert one part into another without deforming the part. We used to perform this application by hand but the press provides a quick, easy, repeatable solution."
Other Industrial MarkingTechniques
Durable Mecco engineers recommend dot peen markers as an alternative marking technology when the marking application requires a high quality mark but with much variability of information being marked. With a variety of marking heads to choose from, the dot peen technology also allows for sufficient depth of mark to accommodate other processes such as painting and galvanizing.
Portability offers additional flexibility with dot peen marking. Fabricators often times are faced with small batch, unique marking requirements and find it beneficial to take the portable marking unit to the fabrication when the work piece is too large to fit into a bench system.
Don't Forget Plant Safety
Sometimes lost in the never-ending search for improved productivity is the need to maintain basic safety precautions in all plant operations. Durable Mecco has long been a leader in promoting its "Mecco Safety Tools" in its engineering of marking solutions.
One such recent request came from General Electric to improve the safety of its manual marking applications. In this case, General Electric hand stamp operators were marking large characters with hand stamps and sledge hammers. Per customer request, Durable Mecco designed its newest Safety First Grip for the stamp which provides improved protection to the operator's hand. The Safety First Grip was designed to be non-intrusive while providing the operator with a much more positive grip on the stamp while still achieving a clean, deep mark.
Another General Electric problem application called for three marks to be made on a steel bracket. The goal in this application was to find a cost effective solution to enhance the consistency and quality of the mark while also improving productivity. Durable Mecco engineered a cost-effective fixture to support the part resulting in improved alignment of mark while also speeding up the marking process. The added benefit of the fixture design was greatly improved operator safety.
Customer Driven One Stop Shop
As marking and identification application requirements have expanded, so to have Durable Mecco's capabilities and offerings. "A lot of customers use us as a one stop shop and come to us first for marking issues" says Clem Malinowski, General Manager. "More and more we act as marking consultants to help the customer to work through the application and then directing them to the best solution."
Durable Mecco's versatility has been showcased as new customer requests have led to an expanded product offering beyond just impact presses, steel stamps, type, roll dies, and dot peen markers. New products include ink jet systems, thermal printers, package date coding type and dies, part marking, tags, I.D. plates, and stencils. Durable Mecco has become the "go to" source for many companies seeking marking and identification solutions.
This post was published on May 13, 2010 and updated on May 18, 2021.