A blacksmith's touchmark is the final detail that pulls a project together. A touchmark identifies the artisan who created the item, allows the end user to see a glimpse of the personality of the item's creator, and is a way for a blacksmith to distinguish their work.
So how are blacksmith touchmarks made?
Making a Blacksmith Touchmark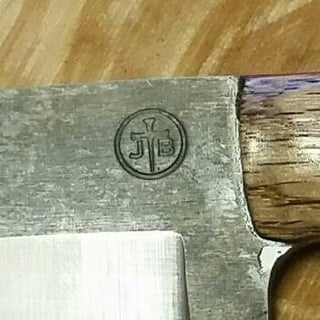 Most touchmarks are made with either a custom steel stamp or die. There are a couple of reasons for this choice, but one of the most important reasons is that stamps and dies are easily customizable and affordable.
In addition to numbers and letters, stamps and dies can be created using nearly any copy you can dream up. This allows artisans to create stamps with their logos, designs, initials, or other verbiage, meaning that the makers mark can be as much an aesthetic choice as it is a practical means of identification.
Steel stamps and dies are also very durable. The tools used to create a touch mark tend to take a bit of a beating.
Hand stamps are designed to be struck with a hammer to create their impression, and dies or stamps used in a press are under great pressure when the impression is made. Creating stamps and dies from high-quality steel allows for long service life.
The ability to use blacksmith stamps and dies with multiple marking methods also makes them an attractive option. While some blacksmiths might have access to a press for making their touchmark, others don't.
Utilizing stamps and dies means you can make the same quality touchmark by hand as you can with a press, so a secondary piece of machinery just for marking isn't necessary.
Applications and Success Stories

Over the years, we've created some custom steel stamps and dies for blacksmiths to create their touchmarks.
Some are as simple as initials, while others are customized with logos and designs.
You can check out a couple of them below!
Learn More
Contact us for more information about custom steel stamping dies, or to see how we can help you with your next direct part marking project or application.
This post was published on March 21, 2023 and updated on March 21, 2023.