Steel hand stamps allow for years of customization and long-lasting tracking marks to be made in nearly any material.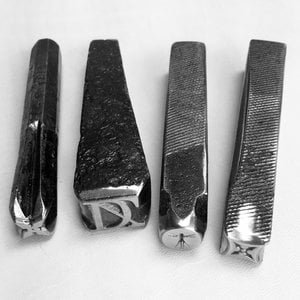 Hand stamps are a popular marking solution for many because they allow the user a great degree of flexibility.
For many, an automated marking machine isn't worth the investment either because the volume of parts needing to be marked isn't great enough to justify the cost or because a larger marking machine can't satisfy their application's requirements.
Hand stamps are an excellent solution for companies in either position.
Versatility and Customization
Hand stamps are a versatile marking method because they can be customized to meet nearly any need. In addition to standard alpha-numeric characters and standard inspection symbols, hand stamps can be manufactured to have nearly any logo, design, or text on them. They can also be combined to produce nearly any message or pattern using multiple stamps together.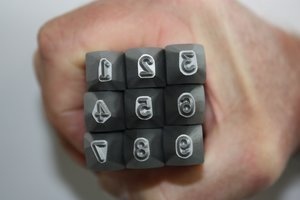 Download the Guide to Traditional Industrial Marking to learn more about hand stamps.
Hand stamps also allow a user to specify what character style they want on their stamp head.
Common options include sharp face, low-stress full character, and low-stress dot character, but they can be customized to meet specification marking requirements.

What our customers are saying
"Our customers want every detail to reflect the original design intent of the original manufacturer. We need a part marking partner that understands that 'good enough' is not good enough for our customers.
We need someone like Durable Technologies that will work with us to figure out the best way to use hand stamps to mark components exactly as they were marked in the 1940s and 1950s. Sometimes we even send the parts with the original mark to Durable and they have to figure out exactly how to replicate that mark on the replacement part.
They need to match the font, size, and depth precisely. Our level of satisfaction with Durable Technologies is extremely high, which is our expectation of anyone we work with.
Not every company is willing to devote the time and attention, much less have the expertise to meet our standards, and Durable Technologies does both," said John Wilberg of German Parts Obsolete in New York, who builds and re-builds classic cars.
If you've used our metal stamps before, we'd love to hear from you, too!
We always look for more customer success stories to highlight on the Durable Marking Blog. All you have to do is contact us with your Durable experience here.
Learn more about custom metal stamps in the new, free, Guide to Traditional Industrial Marking! Or contact us to request a quote.
This post was published on May 30, 2023 and updated on May 30, 2023.