Download the Guide to Traditional Industrial Part Marking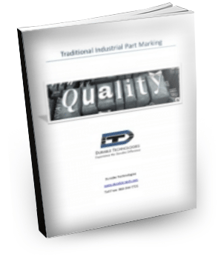 This guide seeks to provide the reader with general information about some of the most common industrial marking methods. In each section you'll also find detailed information about the marking method or marking tool, as well as common applications, industries, and uses.
Topics we cover in this guide:
Character Styles
Hand Stamps
Hand Stamp Holders
Hammers and Safety Considerations
5 Steps to Clear Hand Stamping
Steel Stamps and Dies
Roll Dies, Embossing Dies and Inserts
Steel Type and Holders
Hot Stamping
Durable Technologies was formed in 2011 when industry leaders Durable Mecco of Franklin Park, IL and VisiMark, Inc. of Worcester, MA combined to form one of the nation's premier authorities on custom part marking and identification solutions.
Durable Mecco began as Durable Engravers and was formed in 1952 in Chicago, Illinois as a manufacturer of traditional marking products including steel stamps and metal coding type.
VisiMark, Inc. was formed in 1985 in Worcester, Massachusetts specializing in the production of steel stamps, brass and steel coding type, hot stamping dies, as well as part marking and mold engraving.
Download the Guide to Traditional Industrial Part Marking Now!