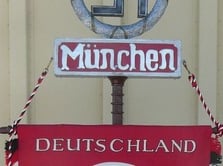 Craig Gottlieb, owner of HistoryHunter.com, is an American military and antique dealer, writer and historian. Craig found Durable Technologies on the internet and asked if we could fabricate historic reproductions of German flag signs. Craig is a historic artifacts expert on Pawn Stars.
After WWII the Soviet Union annexed East Germany and destroyed everything that had to do with the Nazis. During parades and other events the Germans would march with flag poles called an Erwache.
American vets brought back souveniers from Germany, flags, sometimes the eagle on top. These flags came in boxes. No one brought back the city name boxes because the Russians destroyed most of them after the war. So the only way to display these flags as they were made in a complete set is to find a completed box. And since they are so rare Mr Gottlieb decided to build museum quality reproductions on his own. But there was still the problem of the box plate.
Front plates for the boxes showing the name of the city were made of brass. Craig got an artist to sketch out the signs and digitized the drawing and sent them to Durable in order to machine the signs.
"Durable Technologies came up with an affordable solution when no one else could. Their commitment to the customer and making sure we had a solution that worked for us was impressive," says Mr. Gottlieb.
"To be clear, these are only sold for museum quality reproductions and serious collectors and not for anyone associated with neo-Nazis," states Mr. Gottlieb.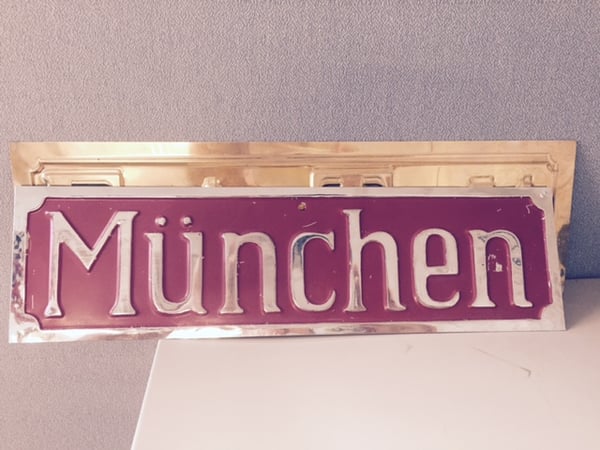 And the dies we used to make these signs.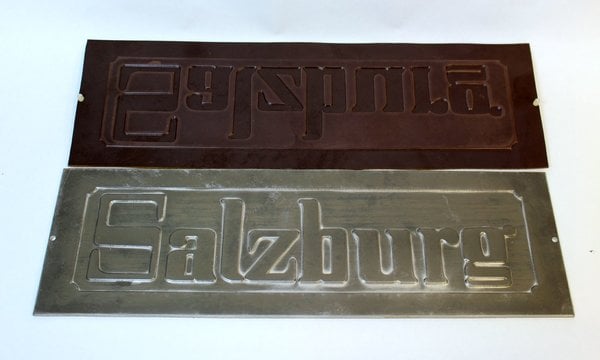 Mr. Gottlieb supplied the artwork and we modified it to fit our process. Durable Technologies built a counter die set, also known as male/female embossing dies, that were used in a 5-ton press to mold jeweler's soft leaded brass into the sign shape.
Durable Technologies' steel stamps and marking dies are custom engineered for identifying a variety of industrial products. Every die blank is skillfully machined to the user's specifications. Our custom dies satisfy any user requirement for marking machines, punch presses, press brakes and other machines. Our custom stamping dies can be made for marking on flat, curved, concave or convex surfaces - for stamping part numbers, patent numbers, trade names, trademarks, special lettering or other data. Durable Technologies' stamps for steel marking - the best steel marking tools available.
Our custom steel embossing and coining dies are most often used in the sheet metal industry. These dies reproduce permanent and legible raised or sunk letters, including trademarks, code symbols, ornamental patterns, or virtually any specific design, on various gauges of sheet metals.
This post was published on September 15, 2015 and updated on September 16, 2015.