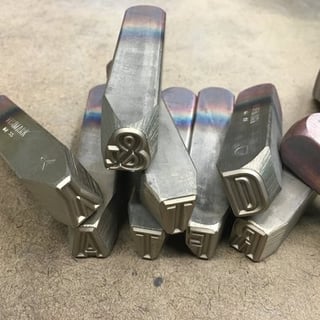 Oowee Products of Asheville, NC creates custom, hand-crafted, leather sleeves for mugs and other beer accessories. Recently, they partnered with a major brewer for a promotion of their product line at large events. Problem was, they wanted to be able to customize a stamped mark into the leather but didn't want to use a standard font. They were looking for a custom hand stamp letter set and that's where Durable Technologies came in.
Gabriel Hargett, owner of Oowee Products, says, "We needed someone to create a custom hand stamp letter set from our specifications. To match our branding on our hand-crafted leather beer sleeves we needed someone that understood low volume, custom manufacturing. Durable Technologies took our font designs and turned them into a beautiful hand stamp letter set that we used to custom stamp people's names onto our products. At the Stagecoach Festival in Palm Desert, CA we had two hour long lines for these custom stamped leather sleeves. Not only was the brewer sponsor happy, we were thrilled at the product interest, and the customers were excited to get a personalized sleeve. We stamped over 2,500 sleeves during the three-day show. Everyone went away happy."
"Oowee Products is supporting individuals on the spectrum by working closely with the Autism Society of North Carolina to provide job opportunities and training for individuals on the autism spectrum. In my opinion, our employees on the spectrum do a better job completing the tasks asked of them than most other individuals. I enjoy working with our employees on the spectrum and with the Autism Society and hope to continue to employ more individuals with autism in the future," said Mr. Hargett.
Steel Hand Stamps
Durable Technologies has a steel hand stamp for just about any part marking requirement. We custom design and manufacture heavy-duty steel hand stamps according to your specifications. Made from a special grade of tool steel, our designs provide extra-long service life for these custom designed hand stamps. They also resist spalling and mushrooming to keep your operators safe.
We offer hand stamps with simple or complex text, logos, and designs in sizes ranging from tiny steel hand stamps to mark jewelry to large steel hand stamps to mark steel slabs. Characters can be made sharp face, low stress full character, low stress dot character, or customized to your specific marking requirements.
Also available:
This post was published on May 24, 2016 and updated on February 18, 2020.