Not every marking application can be accomplished on a manufacturing conveyor line. Often, materials and items are too large or bulky to be marked inline or require marking while in the field. Luckily, there are a number of high quality portable marking machines that can meet the challenges of in-field or on-the-fly marking.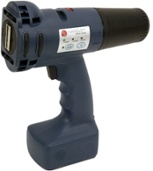 Portable Ink Jet Printers
Perhaps the most common portable marking machine, portable ink jet printers allow users a great degree of flexibility, both in terms of what kinds of information as well as the wide variety of substrates that can be successfully marked. These systems can mark alphanumeric text, sequential numbering, automatic date and time, even bar codes (some models) onto porous and non-porous substrates.
Portable ink jet printers owe much of their popularity to the fact that they are low maintenance, easy to use, versatile, and affordable.
Portable Dot Peen Marking Systems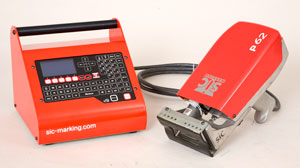 Dot peen marking, also called pin stamp marking, is a direct part marking method that creates low stress dot patterns. This marking method can be used for marking alphanumeric characters, logos, and 2D data matrix barcodes onto a wide variety of substrates including metals and plastics.
While this marking method can be integrated into an existing manufacturing line, it can also be accomplished with a portable marking machine. Portable dot peen marking systems are ideal for in-field marking requirements or for marking parts that are too large or bulky to be handled easily.
Applications
Over the years we've helped numerous companies find portable marking machines to meet their marking needs. You can find links to a few of these applications below.
Learn More
Durable Technologies is a full-service manufacturer and supplier of direct part marking solutions for just about any material and industry.
Contact us to talk with one our marking experts to see the Durable Difference and how we can help you make your mark.
This post was published on September 20, 2017 and updated on September 20, 2017.