Portable inkjet marking machines allow users to print things like alphanumeric text, bar codes, date codes, serial numbers, and other important information onto a variety of materials in the field. With an emphasis on portability and ease of use, portable inkjet marking machines are an excellent upgrade for anyone using traditional hand coders like stencils or rubber stamps or any application where more traditional, stationary marking machines are not a good fit.
We offer a number of portable inkjet marking machines, and this guide will explain the three styles of portable marking machines that we offer.
The HandJet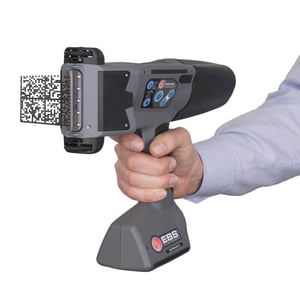 The HandJet portable inkjet marking machine is a ruggedized industrial printer ideal for applications with harsh conditions.
When printing with this machine, the message is created on a PC and then transferred to the HandJet via Bluetooth for a cable-free experience.
Capable of printing alphanumeric text, sequential numbering, automatic date and time, and logos and bar codes (260 models only) onto porous and non-porous substrates, this is a great, easy to use, portable marking solution.
The JetStamp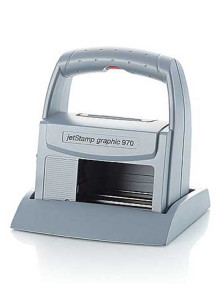 The JetStamp line of portable inkjet marking machines is an affordable option for applications that require an easy to use portable marking solution. All of the JetStamp printers come with their own software, and all of the programming is done either through your PC or through the printer itself.
The JetStamp can print alphanumeric text, sequential numbering, as well as automatic date and time on a variety of absorbent and non-absorbent materials. For applications that require printing graphics, the JetStamp Graphic 970 can print barcodes and graphics as well.
The Speed-i-Jet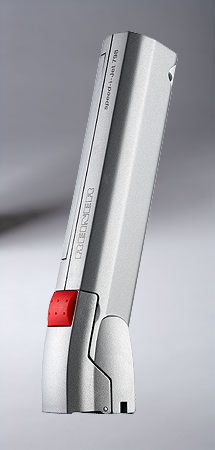 The Speed-i-Jet is our most portable inkjet marking machine designed for printing onto absorbent substrates.
Able to fit in your pocket, the Speed-i-Jet can print individual text, consecutive numbers, and date and time. It can print on porous materials like paper and cardboard, irregular surfaces, and uneven surfaces.
This is the best option for applications that require a simple, small, and portable marking solution onto absorbent materials.
Learn More
Durable Technologies is a full-service manufacturer and supplier of direct part marking solutions for just about any material and industry.
Contact us to talk with one of our marking experts to see the Durable Difference and how we can help you make your mark.
You may be interested in these inkjet related posts:
This post was published on May 16, 2019 and updated on May 16, 2019.